The Monarch Cocktail Bar & Lounge
A slice of swingin' London has fluttered and landed on the Country Club Plaza in the guise of The Monarch Cocktail Bar & Lounge. The place itself is luscious eye candy, designed by architect and designer David Manica, with a large glowing white bar in the middle, surrounded by high white stools and benches, with acrylic butterflies hanging overhead. On the sides are soft, luxurious couches and chairs, perfect for lounging and primping for that perfect Instagram moment. 
But this cool, classy spot is all about what goes on under the bar, and that is being run by Liquid Minded Concepts members Brock Schulte and Kenny Cohrs, both talented, experienced bartenders who know how to mix a mean craft cocktail. Brian Shellenberger is the assistant general manager and maître d', and Theresia Ota is the executive chef. According to Brock Schulte, bar manager; he and David Manica met through the person who cuts their hair, and they have now been together for more than 20 months. "We wanted to bring a new experience to Kansas City and create a place like someone's living room or the most comfortable place in the house. What we were striving for was a West London feel and to place special attention on art and style. We also change the menu seasonally, so that we can go from patio style to fireside." 
While the front of the bar is light and airy, The Parlour, located in the back, is dark, intimate and clubby and is a reservations-only venue with its own separate menu, based on an Edgar Allan Poe theme. Parlour Manager Kenny Cohrs brings his vast mixology knowledge from Jax Fish House & Oyster Bar, Manifesto and Café Trio. When the weather is milder, the sleek Monarch Terrace is ideal for al fresco socializing and cocktailing.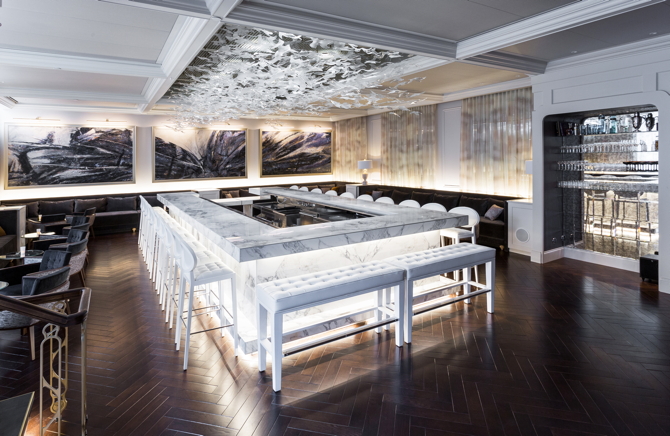 A group of friends, who are also avid tennis players, decided that The Monarch was a perfect spot for a happy hour gathering, and we were not disappointed. As opposed to our usual tennis skirts and sweats, everyone dressed to the nines, looking chic and sophisticated. Marty exclaimed that she absolutely loved the butterflies over the bar. Added Karen: "I feel like I'm in someone's posh home." As a special treat, we were served an amuse bouche cocktail that I decided I liked so much that I ordered another one, topped with a splash of ginger ale. Even the menu itself is a beautiful graphic depiction of butterflies and their migratory paths and patterns, emphasizing the global vibe of the place. 
After much deliberation, we all made our selections. Marty chose the Silver Dollars & Half-Light Skies, consisting of applewood-smoked J. Rieger & Co. whiskey, Yunnan black tea-infused tabacal rancio, barrel-aged cream soda reduction, and No. 22 Boondock bitters. It even came with a small wooden hammer to break the brittle coating on top, releasing the smoky flavor. Karen and I ordered the Momento Mori, which was a strong woody twist on a Manhattan, served in tall, cold metal cups. "Wow, this has a kick," said Karen. Indeed, it did. Sandy and Beth had the West Coast Migration, consisting of St. George green chile vodka, Sombra mescal, Riesling, lime, passion fruit, honey, and Dogfish Head Seaquench Ale. Michelle got the Viceroy Revisited with ginger-infused Tito's vodka, carbonic macerated Concord grapes, aquafaba, lime, sugar, sparkling Rosé, and mint cloud. Everyone thoroughly enjoyed their cocktails, and some even ordered a second. 
To keep our wits about us, we decided to accompany these drinks with some nibbles and small plates. The Savory Addiction Nuts fit its description, and they were gone baby gone in a London minute. The Crispy Chickpeas were an instant hit with enough crunch and spice to satisfy. Then we decided to go all old school with Pigs in a Blanket, accompanied with a combination of Monarch mustard, horseradish and Worcestershire ketchup. But the Autumn Lobster Roll also caught the eye of these urbane foodies, and they were a delicious combination of rice paper, Korean pear, pickled butternut squash, avocado, and date and cashew curry dip. After a few hours, we left the Monarch Cocktail Bar & Lounge, happy and sated, already planning a second visit.
So if you want to impress your friends and family who reside in New York, L.A., Chicago (or in London, for that matter), fly on over to The Monarch. But beware. You may be winging your way around, waiting for a spot at the bar or on a couch due to the swarm of all the gorgeous, hip young things.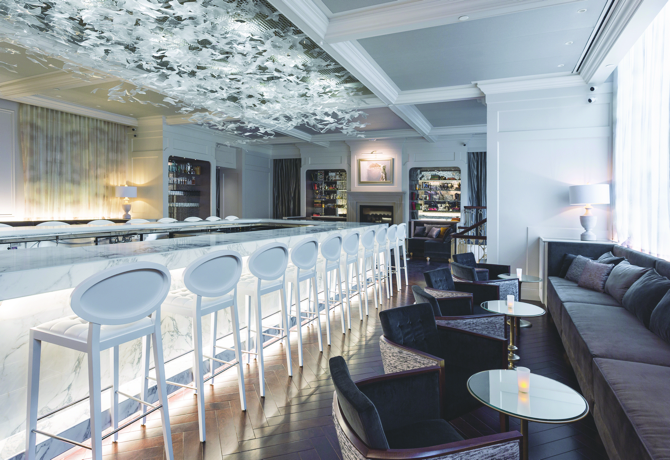 The Monarch Cocktail Bar & Lounge
4808 Roanoke Parkway
Kansas City, Missouri 64112
816-437-7912
Also featured in the December 9, 2017 issue of The Independent
Photo Credit: Aaron Leimkuehler
By Ann Slegman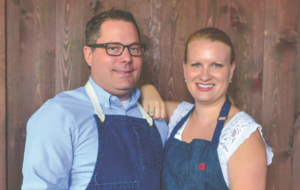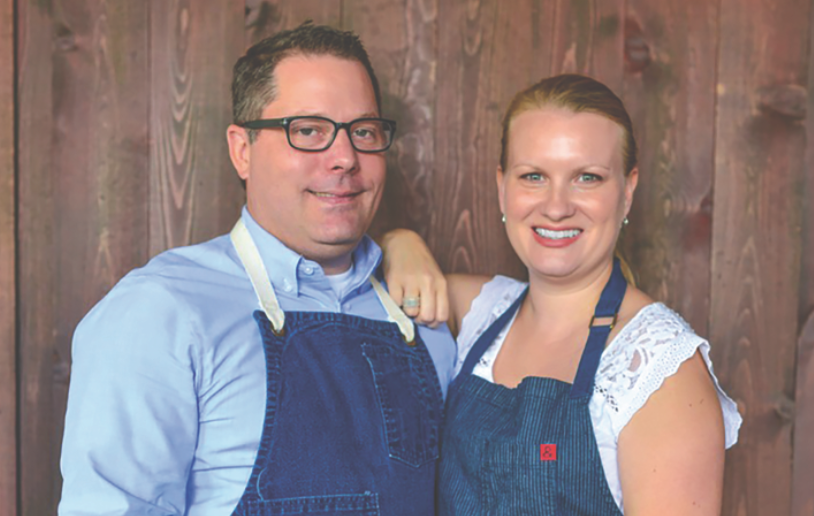 Husband and wife co-owners and Chefs Megan and Colby Garrelts of Bluestem fame will be opening a second location of their hit restaurant, rye, on the Country Club Plaza on…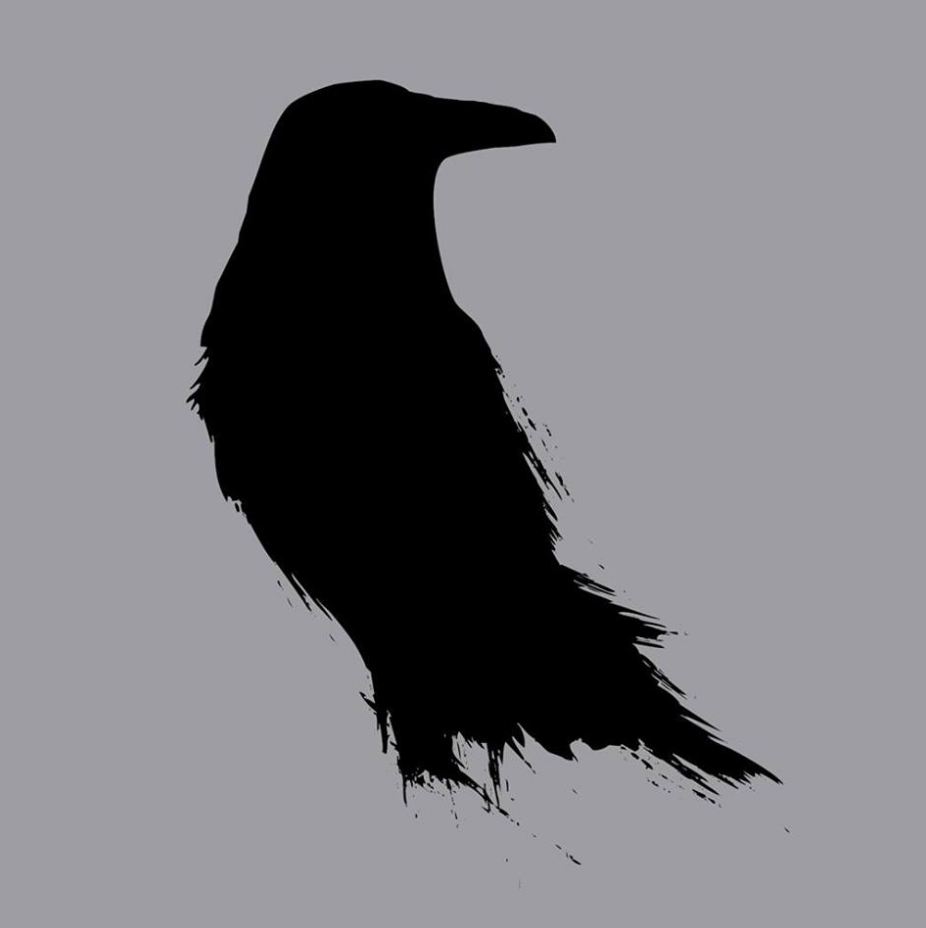 Corvino Supper Club & Tasting Room is a sleek, dazzling addition to Our Town's burgeoning high-end culinary scene. It has a 110-seat main dining room, a glassed-in, semi-private back room…