Corvino Supper Club & Tasting Room
Corvino Supper Club & Tasting Room is a sleek, dazzling addition to Our Town's burgeoning high-end culinary scene. It has a 110-seat main dining room, a glassed-in, semi-private back room and an intimate 18-seat tasting room, where diners can experience a menu of 12 small courses with wine pairings and a private view of the kitchen. And let's not forget the live music, an integral part of the restaurant's vibe, featuring soft jazz, soul and Latin music as well as local bands on weekend late nights. 
Co-owners Christina and Chef Michael Corvino are the creative team behind this gastronomic gem. A Walla Walla, Washington, native, Michael is the former executive chef and general manager of The American Restaurant who also worked at the Mansion on Turtle Creek in Dallas, The Nines in Portland and the Peninsula Chicago. A graduate of Northern Arizona University and a former U.S. Air Force officer, Christina was a fundraiser for Saint Luke's Foundation for eight years and is the restaurant's general manager. When asked how they originally met, Christina said, "I was leading a food and wine event for Saint Luke's North. A celebrity chef had cancelled at the last minute, and I heard there was someone new at The American and invited Chef Corvino to the event. After weeks of emailing, we actually met on New Year's Eve at The Rieger, and we haven't been apart since."
After the American Restaurant closed to become a special events venue, the married couple wanted to create a restaurant that reflected how they love to eat. "When you dine out, you don't need just sustenance, you are craving an experience," explained Christina. "That's how we arrived at a restaurant that focuses on shared plates and social dining. Though we try to source as much of our ingredients locally, Michael has learned from American, Chinese and French chefs, and he loves Pan Asian ingredients so he pulls from all those places. We can loosely call Michael's style 'modern American,' because America is essentially a melting pot." After being open for only four months, Corvino Supper Club & Tasting Room was awarded AAA's Four Diamond Award in August. Michael shares this distinction in Our Town with only one other restaurant, bluestem. 
The minimalist, industrial-chic restaurant, awash in palettes of black and gray, was specifically designed by Hufft Projects to highlight the food, according to Christina. The first floor of this 1921 building, which is part of a multi-use development called Corrigan Station, was originally a post office and has 16 foot ceilings and mammoth concrete pillars. The other design stand-out besides the pillars is a drawing on the wall of a raven, which is corvino in Italian. 
My husband and I, along with our well traveled, foodie friends, Lynne and David, couldn't wait to dig into our array of small plates. We scraped every morsel of the whipped chicken liver, made with hot mustard and honey, topped with radish and chives. The poke bowl of king salmon, seaweed and ponzu was fresh and light, and the steak tartare with smoked béarnaise was sublime. The spicy tomato gnocchi with eggplant, parmesan and lemon garlic chili oil was tender and flavorful. The crispy pork ribs with fish sauce, fried garlic and crushed peanuts had a touch of cilantro that made us want more. The short rib steak with koji and chimichurri was pink and cooked to perfection with just the right amount of mint. After savoring all these flavors and textures, milk and cookies for dessert seemed to be a cozy, old school ending to this sophisticated meal. The milk was a shot glass of cold, frothy vanilla malt, and the chocolate chip cookies had hints of cinnamon and salt, made by Pastry Chef Kat Dolan, a Pembroke Hill School graduate.
Christina and Michael's ultimate goal for their restaurant is to make their guests feel comfortable. "We constantly get comments, especially from travelers, about the warmth of our staff," said Christina. "We're a family restaurant. Our two teenagers worked here over the summer, and our sous chef and assistant manager are married. We're a very tight family, and our guests feel the love for what we do."
Corvino Supper Club & Tasting Room
1830 Walnut Street, Kansas City, Missouri 64108
816-832-4564
Find a table: corvinokc.tocktix.com
Also featured in the October 14, 2017 issue of The Independent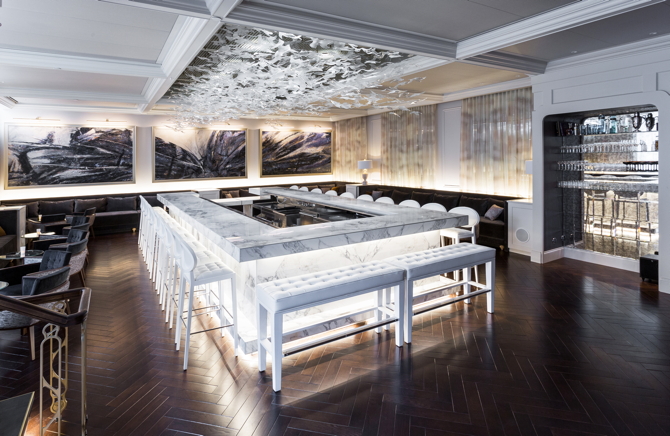 A slice of swingin' London has fluttered and landed on the Country Club Plaza in the guise of The Monarch Cocktail Bar & Lounge. The place itself is luscious eye…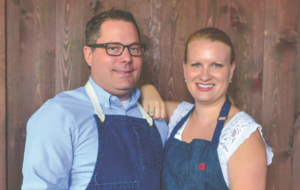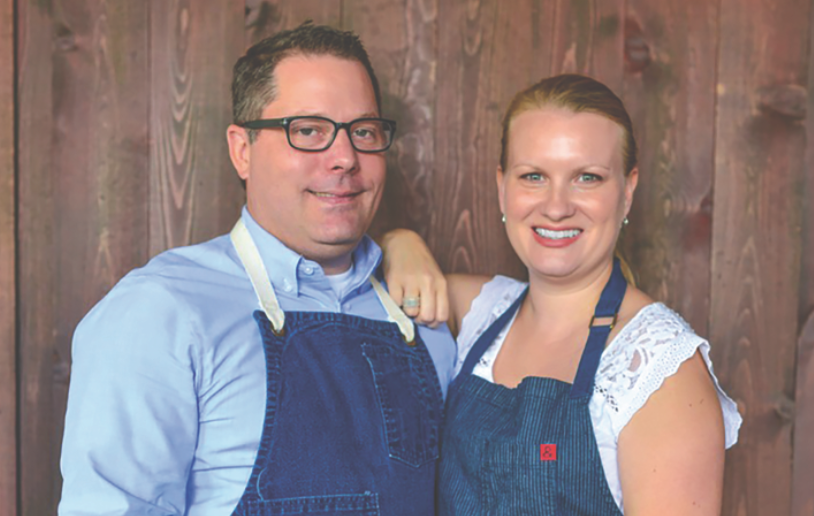 Husband and wife co-owners and Chefs Megan and Colby Garrelts of Bluestem fame will be opening a second location of their hit restaurant, rye, on the Country Club Plaza on…